Knott's Berry Market Recipe: Pulled Chicken Boysenberry BBQ Flat Bread Sandwich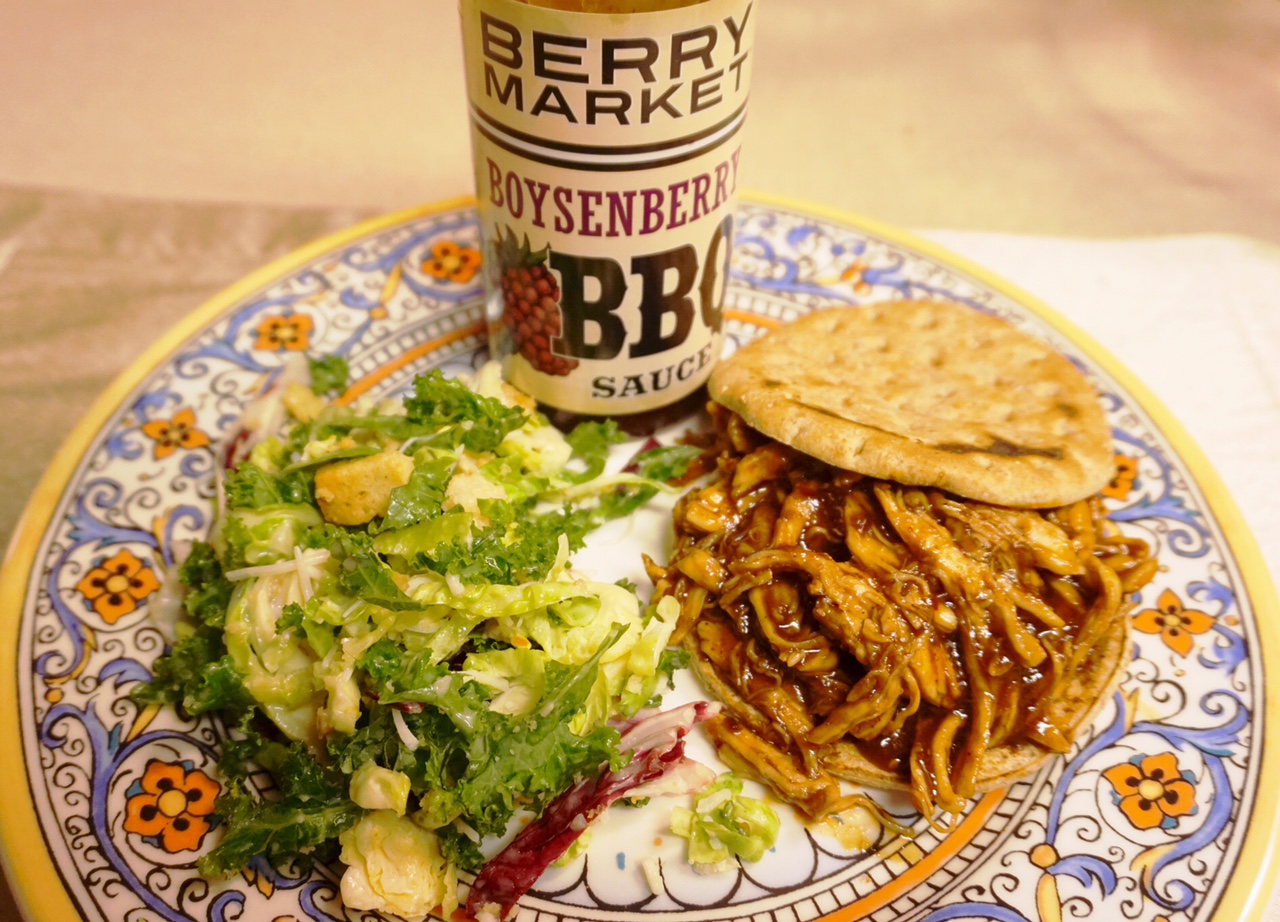 After attending Knott's Boysenberry Festival this past year, I fell in love with all their gourmet boysenberry dishes that are only available during its spring season.  But the secret is out! The much anticipated Knott's Boysenberry BBQ Sauce is now available to the public! I'm super excited to try my own dishes with Knott's signature jams, jellies, and many sauces.  But it was the BBQ sauce that won many hearts during the festival.  I'm here to inform you that the BBQ special sauce is now available exclusively at Berry Market, home of the world's largest selection of Knott's Berry Farm's gourmet foods located outside its theme park.
If you enjoy a good BBQ dish, but don't feel like eating meat and want to watch it on the carbs, you will definitely enjoy my Pulled Chicken Boysenberry BBQ Flat bread Sandwich recipe.  I would like to think it's a lighter version of the Pulled Pork BBQ Sandwich.  Not only will you enjoy every bite, but you will also love how quick and easy it is to put together.  Everyone will enjoy it.  But I must warn you, people will keep asking for seconds, so make sure to make plenty!
Knott's Berry Market Recipe: Pulled Chicken Boysenberry BBQ Sandwich
Ingredients
2 boneless skinless chicken breast
Dash of salt and pepper
1 Garlic clove
8 oz Berry Market Boysenberry BBQ Sauce
1 tbs of vegetable oil
Garlic salt to taste
Flat Bread Wheat Buns
Instructions
Place chicken breast, along with salt and pepper and garlic in a large pot of water and boil until fully cooked through.
Once chicken is cooked, use a fork to pull the meat apart so it is thickly shredded.
In a pan, heat the vegetable oil for 1 minute on medium/high heat.
Add the shredded chicken and the garlic salt to taste.
Stir for 3 minutes and add bbq sauce.
Stir until sauce is fully mixed with chicken and begins to boil.
Toast flat bread buns and add chicken
Notes
Berry Market Boysenberry BBQ Sauce can be found at Knotts.com
http://sparklinglala.com/knotts-berry-market-recipe-pulled-chicken-boysenberry-bbq-flat-bread-sandwich/
Copyright 2000-2017. Powered by Sparklinglala.com
1